PS Company 10th Anniversary Concert Peace & Smile Carnival January 3, 2009 at Nippon Budokan
(2009.04.15) [ DVD ]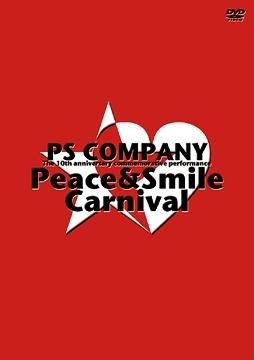 Ref: KIBM-90207
Purchase/Comprar
CDJapan
Tracklist:
1. LOVE SCREAM PARTY/ SUG
2. VEGAS
3. Kotodama/ KAGRRA,
4. Sai/ KAGRRA,
5. Utakata/ KAGRRA,
6. artman/ KRA
7. Mutaku to Mutaku to/ KRA
8. Amaoto wa Chopin no Shirabe/ KRA
9. Buriki no Hata/ KRA
10. Velvet
11. RAINBOWS
12. Blue Planet
13. Filth in the beauty/ the GazettE
14. LEECH/ the GazettE
15. DISCHARGE/ the GazettE
16. KAVKI BOIZ
17. Sakihokoru Hana no Yoni - Neo Visualizm -
18. As U r -Kimi wa Kimi no Mama de -
Download Parts
[1]
[2]
[3]
[4]
[5]
[6]
[7]
[8]
[9]
[10]
[11]
[12]
File Size: 1.08GB
Use HJSplit to join the parts!
Use HJSplit para juntar as partes!
Description:
Live DVD release from visual-kei production "PS COMPANY (Free-Will)." Features footage from their "PS Company 10th Anniversary Concert Peace & Smile Carnival" live stage performance on January 3, 2009 at the Nippon Budokan starring all artists belonging to the production such as Miyavi, Kagrra, Kra, the GazettE, alice nine, and more!